BIMSTEC – What Exactly Is It?
The ( BIMSTEC ) Bay of Bengal Initiative for Multi-Sectoral Technical and Economic Cooperation is an international organization of 7 South Asian and Southeast Asian nations with a combined GDP of US$4.4 trillion as of 2022.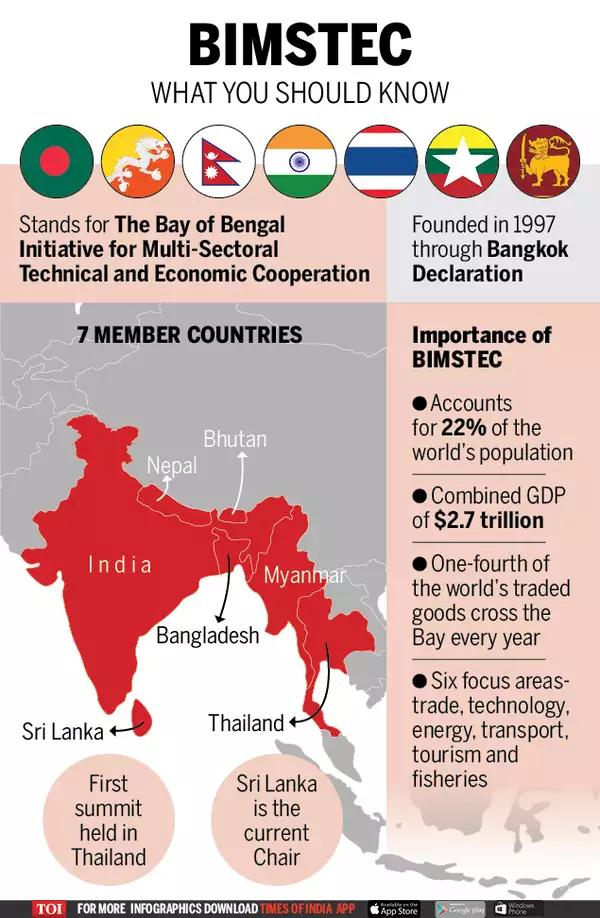 BIMSTEC is a regional organization in the Bay of Bengal's littoral (the part of a country that is near the coast)  and adjacent areas, forming a contiguous regional unity.
The Bangkok Declaration established this sub-regional organization on June 6, 1997.
It has 7 member countries.
South Asia has 5, including Bangladesh, Bhutan, India, Nepal, and Sri Lanka, and Southeast Asia has 2, including Myanmar and Thailand.
It was initially formed with 4 Member States under the acronym 'BIST-EC' – Bangladesh, India, Sri Lanka, and Thailand Economic Cooperation.
14 priority areas of cooperation have been identified, and many BIMSTEC centers have been set up to focus on those areas.
 A BIMSTEC free trade agreement, similar to SAARC, is currently being negotiated.
The leadership is rotated alphabetically by country name. Dhaka, Bangladesh, serves as the permanent secretariat.
Last year on 7th December 2021, the event for humanitarian assistance and disaster relief exercise, PANEX-21, for the member nations of BIMSTEC countries, was held in New Delhi.